Kitefoil Short Fuselage 56 cm
From 650,00 €
Short Kitefoil Fuselage Ketos 100% carbon. Expert Level
The KETOS team has worked hard over the past 12 months to develop this new fuselage. Like all our other foil parts, research and development, design, prototyping, testing, manufacturing  are carried out by us. 100% KETOS!
Sleek design, for optimal glide and maneuverability.
Compatible with all our wings and all our masts. Delivered in a felt cover, with screws for the front wing. Depending of your frontwing, screws won't be the same : 6×25 or 6×30 for wing>1000.
Please specify the front wing(s) you used in the "product customization" tab so that we can provide you with the correct screws.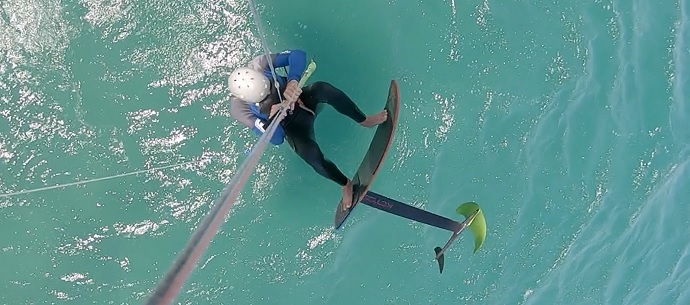 Description
After several months of research and development, our new short fuselage, with high hydrodynamic performances is now available.
Thanks to him, you will gain maneuverability and speed, while maintaining stability.
Its profile design guarantees low drag.
It offers an unequaled stiffness / lightness ratio.
With this fuselage, you will be able to play in the waves, carve, chain tight turns. Adapted to strapless kitefoiling.
Additional information
| | |
| --- | --- |
| Weight | 0,45 kg |
| Program | Carving, Freestyle, Wave |
| Length | 56 cm |
| Level | Confirmed, expert |
| Material | Carbon |
| Front spacing ø6 | 72 mm |
| Center distance rear screws ø5 | 28 mm |
| Screw | for both, screw for FreeRide 2/ Wave / Wave XL/ FreeRace, screw for Kloud / Kool/ Kruiser |