Many of you have already pre-ordered this mast.
we are in the optimization phase, but don't worry, we are making good progress.
For those who have not heard of it, the Kulan is a new range of Wingfoil and Kitefoil compatible masts, a profile designed for speed.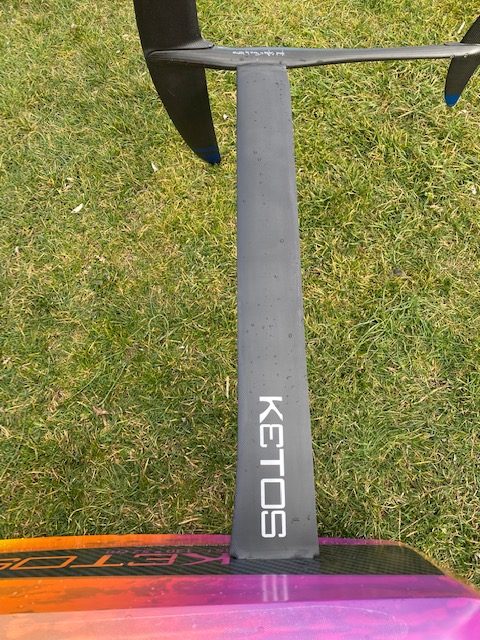 We have been working in R&D on 2 crucial areas:
the manufacturing process and a subtil choice of carbon fabrics, to gain in torsional quality and rigidity,
the study of flows, to obtain an ultra rigid construction and an incredible glide.
Available in 3 sizes: 96 cm, 86 cm and 76 cm, this range does not replace the previous ones, it completes them.
These masts are developed to satisfy your desire for a unique mast for all your foiling practices, rigidity, speed and reactivity.
This weekend the fresh water tests on the Lac du Bourget, Ketos home spot, were as high as we expected, with speed peaks of 28 kts in kite (wave XL, long fuselage) while the conditions were rough.
This week, the goal is to validate everything in salt water.
If all goes well, we should start delivering the pre-orders, already placed so far, in mid-March and the KETOS Kulan 96 cm mast will be online and available for order as soon as April 3rd 2023.
The 86 cm and 76 cm will be released in a second time, we are still in the development phase.
As for the prices delivered in KFBox :
Kulan 96 cm: 1400€ TTC, 1166,67€ HT
Kulan 86 cm: 1200€ TTC, 1000€ HT
Kulan 76 cm: 1000€ TTC, 833,33€ HT
option integrated plate, +150 € TTC
A small point on the choice of the name of the range:
As usual, we needed a name beginning with K
We wanted to highlight the particularities of our new range, we focused on the animals that share these characteristics. The Kulan imposed itself to us, it is a wild donkey of the Asian plains, you will say to us "the donkey that does not sell dreams" but wait to know a little more.
It is one of the fastest mammals in the world, with peaks of 70 km/h (37.8 knots), it is also extremely robust, cut out for survival in semi-desert climate.
Speed and robustness: the characteristics of our new range!